Tracy Aviary supports conservation efforts both within and beyond its walls. Since 2012, our guests have helped us decide where our conservation funds should go through our Dollars for Conservation program. A percentage of every admission to Tracy Aviary, as well as a percentage of the cost of every membership, is donated directly to our conservation fund. Every person visiting Tracy Aviary deposits a token - worth one dollar - in our Conservation Station to vote for one of three ongoing conservation projects and help us decide how much funding each of those projects will receive. We also call for proposals yearly and provide support for selected field conservation projects in Utah and throughout the Americas.
Projects
Great Green Macaw Conservation & Education
The Great-green Macaw is considered an endangered species. Once prevalent throughout Costa Rica, populations have declined alarmingly in recent years due to poaching and deforestation. Tracy Aviary provides funds for this project which have been used to release captive-born macaws into the wild and monitor these populations. Nest boxes have been installed in the release localities in hopes that the macaws will have fledglings there. Education programs have also been initiated to spread awareness among locals and tourists alike.
Monitoring migratory Snowy Plovers and overwintering shorebirds in Mexico
The wetlands and beaches of Mexico provide crucial habitat for migratory shorebird species, including many populations from Utah. The Snowy Plover breeds at the Great Salt Lake, but its wintering habits were largely unknown. This was a problem, because conservation efforts are much more effective when we understand the entire migration pattern of a species. For this project, Tracy Aviary combined surveys of Snowy Plover breeding sites in Utah with with surveys of four wetlands in Mexico taken during the winter. The findings of this project indicate that Snowy Plover populations from Utah and other states winter in Mexican wetlands. This finding is especially important because it provides information about where the Snowy Plovers will be at a given time, which is important when making decisions about habitat to conserve.
sage-grouse habitat response to change in grazing management
Despite its size, sagebrush steppe is among the most imperiled landscapes in North America. Millions of acres have been lost to crop agriculture, urban development, and other land uses while remaining sagebrush habitat is degraded and fragmented by gas and oil drilling, livestock grazing and associated infrastructure, unnatural fire, non-native species, roads, fences, utility corridors, etc. The Greater sage-grouse is a sagebrush obligate species whose range has been reduced by 44 percent and populations have experienced long-term declines due to the loss of sagebrush steppe. A large, controlled livestock grazing experiment in Rich County, Utah, is helping to shed light on whether new forms of rotational livestock grazing can help improve these degraded sage-grouse habitats.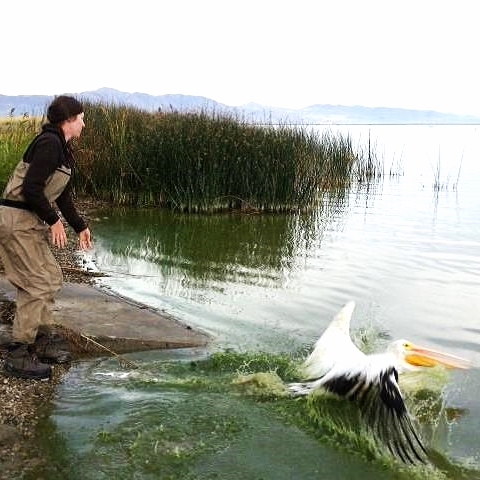 Movement of American White Pelican in Utah: Management on Nesting and Foraging
The American White Pelican is listed as a Wildlife Species of Concern on the Sensitive Species list for the State of Utah and the Utah Wildlife Action Plan. Over the past decade, however, there has been an increasing presence of American White Pelicans at the Strawberry Reservoir complex and at foraging grounds near the Salt Lake City International Airport in Utah, which could potentially cause problems with predation on Bonneville cutthroat trout and collisions with airplanes. One of the main factors limiting the success of management actions is the incomplete information on local and regional movement patterns of American White Pelicans, so the Utah Division of Wildlife is using satellite transmitters to track movement and behaviors of pelicans in order to better understand how to manage and conserve this species. Click here to view 'PeliTrack' - a map showing the movement patterns of pelicans banded through this project.
An Innovative Approach to Monitoring Utah's Short-eared Owls Using Citizen Scientists
Large-term surveys show that Short-eared Owl populations may be on a steep decline in North America. The magnitude of the decline is uncertain because of relatively poor survey data, thus more comprehensive surveys are being done to determine the population estimate and distribution of this species. The Short-eared Owl primarily relies on large, intact native grasslands for survival, but is also found in wetland, shrubland, tundra, and agricultural areas. A highly nomadic species, Short-eared Owl population densities are incredibly variable and track outbreaks of their primary prey of voles. Their reliance on habitats with little tree cover means they are almost exclusively ground nesters. Due to their nomadic nature and cryptic habits, comparatively little is known about this geographically widespread, but uncommon raptor.